Refoam FAQ
I did not receive an order confirmation....
Usually if you have not received an order confirmation by e-mail, you will find the confirmation in the folder 'unwanted items' (SPAM or similar) of your e-mail account. If you have made a typo in your e-mail address you will never receive the confirmation. Sometimes we can derive your valid e-mail address from the wrong (for example, two characters have been mixed up) but sometimes we have no idea. In that case, it is best to contact us.
Are my speakers worth refoaming?
Yes! There's hardly any speaker that can be obtained for the cost of new surrounds. Also, please consider the 'environmental costs' of new speakers as compared to your old speakers with a new surround mounted.....
Some speakers are always worth repairing, such as JBL, Acoustic Research, Bang & Olufsen, Dalquist, Dynaudio, Infinity, Kef, Tannoy, Rogers, Bowers & Wilkins etc. Others are worth repairing assuming that everything else works and the speaker is in good condition. You should check your tweeters and midranges before you think about refoaming the woofers.
Then there are other factors such as sentimental value, what would new speakers cost, and then finally....the sound! New speakers just don't have the same sound as some of the old vintage/classic speakers. If you like your sound, you like your speakers or don't want to spend a fortune on new ones refoaming can be the right decision.
Is the refoam job difficult?
Not really. Many people make you believe it's a very delicate, difficult job. It's not. With
our step-by-step instruction
and
an instruction video
it's pretty easy to do. Not everybody will have the neatest results, some will do better than others - 99% of all 'home performed refoams' will pass 'the sound test'.
Who made the manuals on this website?
We, Good Hifi, did. The video instruction is also ours. Some pictures may be web-linked, but most pictures are our own.
How to test a refoamed unit?
Once you've refoamed your units you can test them. You can test them by pushing the woofer membrane an listen, or by playing music over your woofers. When listening to music it's hard to hear if they are faulty, because you can define a faulty woofer by its scraping sound. If you use sound samples, consisting of very low tones. They will make the woofers work hard, but you will hardly hear anything. Play the samples over your refoamed woofer and listen carefully. If you hear any 'scraping' sounds you have attached the new surround in a wrong way - it's not centred. In that case the voice coil scrapes the magnet. Remove the new surround from the cabinet and mount it again. This will be the case in about 1% of all refoams.
How much time will the refoam take?
This varies. It depends on your speed, the size of the speaker (most time is spend on 'cleaning'.... removing the old surround......). In general you can count on 30 - 60 minutes per speakerunit.
What will my speakers sound like after a refoam?
After a refoam your speakers will sound more or less like they sounded when you bought them. You probably won't remember what that was like, because remembering an exact sound is very hard! Expect a different sound though, returning to the sound you were used to after a few weeks. Differences in sounds are caused by the new surrounds needing a 'run in' periode, but also by the fact your speakers were probably running out of specifications before you decided to refoam them.
Will the sound of my refoamed speakers change after a while?
Yes!!!! The foam or rubber surround will become more flexible in a few days / weeks (depending on how much you use your speakers) and you will notice a gain in bass-weight and a less bright delivery of sound after some time. By the way.... the same will happen if you buy a new pair of speakers.
How long will new foam surrounds last?
How long the new foam surrounds will last depends on many factors, such as, their quality, humidity, temperature, sunlight, etc... The foam being manufactured nowadays is polyether and is expected to last longer than the original ones. You could assume that if the speakers are in the same environment, that they will last at least as long as your original foams lasted. Generally the foam surrounds will last 10 - 20 years. In many cases you can replace a foam surround with a rubber one. A rubber surround will last 30-50 years. We only deliver the highest quality foam surrounds
I only have one speaker that is in need of a repair; does it make sense to repair only that one?
If one of your surrounds has deteriorated from age... then the other one will crash tomorrow or the day after - guaranteed! You should always repair the woofers in pairs. Another reason for this is that a refoamed woofer will sound slightly different from the woofers with a deteriorated surround.
Use foam or rubber?
Many people wonder what ring to use for woofer-repair, a foam surround, a rubber surround (or a surround made of fabric). In general: repair the woofer with the same kind of ring the manufacturer uses. This way your woofer will perform according to the original specifications and sound / result will be predictable.
Foam really differs from rubber or fabric. The way it controls the speaker cone is different, and the weight is different. Rubber rings can weigh up to 10 times the weight of a foam ring. When tou attach a rubber ring to a speaker with a very light membrane (cone) this can lead to a different sound.
But....... There's many people who had their speakers repaired (or did it by themselves) and were very happy with the result, even though rubber rings rings were used. Infinity Kappa woofers are mentioned in this respect quite often, but also Tannoy comes to my mind. Many of my customers have repaired BOSE 4,25 inch units (901, 802 etc) with rubber rings with great results.
I have repaired many woofers with a rubber ring (even though they originally had a foam ring), the results differed. I find it hard to predict what the outcome of a change of material will be. In general I had good results with rather big woofers with a heavy cone and a very stiff spider (for example Kappa 9).
Many people prefer rubber over foam because rubber lasts longer. That's true - there's no doubt. Some foam rings break down in five years, some even sooner! Modern foam rings - and all of my foam rings !- are made of moderne durable foam. These rings should last for at least 10-20 years - depending on the situation (temperature, sunlight, smoking). I selected all my foam rings because of their exceptional quality and durability. Hence my general advice to repair foam with foam.
What are dust caps?
The dust caps is the dome (sometimes an inverted dome) in the centre of the speaker. The dust cap protects the voice coil and the magnet from dust and debris.
My dust caps are fine; do I still need to replace them?
No, in my opinion you can leave the dust-caps just where they are as long as your speaker is centred by itself. There's a simple test to check if you need to remove your dust cap to center your speaker again:
Test:
Put the woofer on its back (horizontally). Move the woofer membrane downwards in a straight line. If you do feel resistance (other than normal with a woofer like this) or you hear a scraping sound - remove the dust cap. If not (i.e. you can push the woofer without feeling a 'scraping' resistance or hearing a sound) the 'spider' is still OK and you don't need to centre your woofer again. Leave the dust caps in place. This is the case with most woofers. Please note that some very nice woofers (i.e. Dynaudio) have fixed dust caps that cannot be removed....
The foam surrounds included seem to be a bid large for the outer metal frame; can they be trimmed?
Yes, you can trim on the outside if you want. The inside fit (roll to roll) is by far the most important part.
I can't find the correct foam for my speakers anywhere, where can I find them?
You probably can't - maybe your speaker company (for instance Dynaudio) can provide them. This is unfortunately a very expensive way to get new surrounds and you will notice most speaker brands can't be bothered to provide replacement surrounds. They rather sell you a new set of speakers.
Some people I met bought a surround just a little bit bigger than needed and cut it and fitted it to their size by gluing the ends together......
Can I see an instruction video first to see how difficult it is to do the repair?
Sure, check the top menu and there's a lot of info there.
How to order, how to pay?
You can order your parts through this website (recommended) e-mail, or Ebay etc. Payment can be made through PayPal or bank transfer. If you live outside the EU we prefer PayPal because the banks will charge you and me like crazy!
Please transfer the money to:
Bank: ING BANK
BIC: INGBNL2A
IBAN: NL78INGB0004640357
Acount holder: Good Hifi
My adress: Keizerfazant 29
1704 WL Heerhugowaard
The Netherlands
If you use PayPal you can transfer the money to the e-mail address used in our order confirmation (orders.........).
Can you provide me with 99,99% of all speaker rings that's out there?
I wish I could. I can't. We usually have about 230-250 different rings in stock, about 20-30 of them are regular sizes that fit more than 3000 different speakers. Unfortunately - whatever others may tell you - there are units out there with very odd sized rings. If you're in doubt, please try! We will do whatever we can. We can provide you with more than 300 different foam rings and more than 230 different rubber rings! We can produce custom made rings but in order to do that we need to identify the exact parameters of the surround (time consuming) and we need to have a metal tooling made to press the surrounds (expensive). These to factors make we maintain an MOQ of at least 200 pcs before we start production.
Can I take a look at the manual to see how difficult it is to do the repair?
Yes, check the top menu of this website.
Do I need rings with a flat edge or the angled ones?
Well.... The bigger the rings, the less it matters. Rings are pretty flexible, so you can make a ring with a flat edge fit on an angled woofer. The trick to make this work is to put something heave on the inner part of the ring when gluing and applying pressure for some hours this way. The ring will then fit perfectly to the speaker cone. That's the same way speaker manufacturers do it........
What glue to use?
There's many glues one can use to refoam. There's also glues to avoid!
First of all, try to avoid any quick drying glues or 'contact glues'. It's great to use a slow drying (white) glue PVA so you can move around a bit before gluing the ring for real. Many contact glues 'use certain chemicals that can damage the rings (for instance: Bison kit). I recommend these glues:
Aleen's tacky glue
A good general purpose glue
the PE glue
Weldbond
Elmers
Bison alleslijm
We can provide you with a suitable white water-based rubber containing glue. We buy it directly from a Dutch glue manufacturer.
Please note delivery will be a little more expensive if you choose to use this glue. Many people have a suitable glue in their home, so contact me if you're in doubt.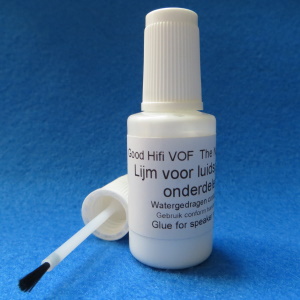 We offer glue is several quantities. More
here
. We also offer some tools used to apply the glue easily.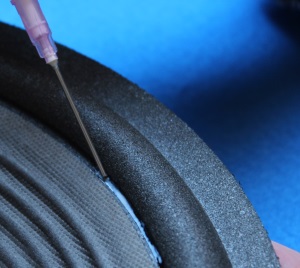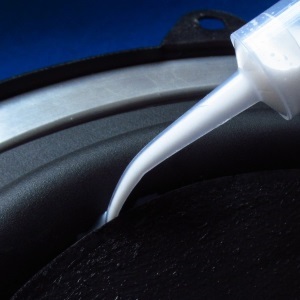 Can you guarantee I can refoam my speakers?
No, I can't. Many people did the job just fine, their speakers work again and they are very satisfied with the quality of my products and my service (you can check here). However, every now and then (my guess is about 1% of all refoams) someone can not do the job properly. Most of the times it's caused by working to quick...... Taking your time, especially during your first refoam(s), is very important! Please note that I take no responsibility for a refoam performed by you. Of course you can ask questions any time - we are an experienced refoamer ourselves.
How long will it take to deliver your goods
We will dispatch the rings as soon as we have received payment. If we receive payment before 16.00h. we will dispatch the same day (GMT +1).
We always use a priority delivery service by
PostNL
because it's relatively cheap and very reliable. Within the European Union, delivery will typically take about 5 working days, less most of times. To the USA, Middle East and Asia delivery will take about 7 working days, but customs can slow down the process (especially USA!) significantly! We will always include the right documentation for customs, but sometimes a delivery can take as long as 10 to 14 (working) days. Most of the times our goods are delivered in a day or 7. If you have not received our goods after a fair amount of time please contact us and we will inform you about the delivery process. Recent information about deliveries (delays) and pricing you can find in the news section and the 'Shipping costs' section on this website.
Who is Good Hifi?
Good Hifi are two Hifi enthusiasts who, besides their daily activities (secondary education and goldsmith), were busy with their hobby and helped others with speaker overhaul. This hobby has grown so much that we have been registered with the Chamber of Commerce under the trade name Good Hifi since January 3rd 2008 with the number
37138232 0000
. Over the years the business has become so large we quit our regular jobs and now work for ourselves full time. Besides the two of use we have one more staff working for us.
We supply foam surrounds, rubber surrounds, diaphragms, woofer, tweeters, midranges and hundreds of other parts to private individuals and companies in- and outside the EU.
Are you different compared to other ring-resellers?
We offer a large very range of surrounds, quite a lot of surrounds are made according to our specifications. We choose the foam quality, we own special moulds en we order special rings according to our specifications. Our rings are made of the highest quality of foam, have sharp-cut-edges and are extremely durable. Because we own some special moulds (toolings), we can sell surrounds nobody else sells. Besides, we offer a website dedicated to speaker repair, we offer special glue etc. And... Over the years we have become the center in Europe for spare parts for B&W, JBL and Infinity.
Do you repair speakers?
No, we don´t. We can repair, of course, we just don´t want to do it professionally. Sometimes we repair a speaker for ourselves, just because we buy a defective speaker and we are curious about it. However, we can try to provide with details of people to turn to who might be able to do a repair for you.
What are your terms and conditions?
In general, we deliver the highest quality of speaker parts in the shortest amount of time after we receive payment. If you want to read the legal stuff, it's
here
.