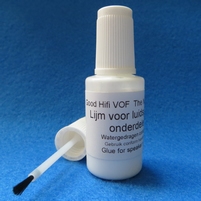 Glue for speaker repair - 18 cc
This is water-based glue. Do you have a mailbox on the road (outside your home), and there's very cold winter weather, the adhesive may freeze. After freezing, the adhesive has become unusable.
Glue that has been frozen can be identified by:
It's hard / impossible to shake the glue, it is no longer liquid.
The glue clots. Usually white cots can be seen on the brush.
The glue is watery when the brush gets out. You see the condensation on the brush.
Shelf life: up to 3 months.
General
Special water-based, permanent-flexible adhesive for speaker repair. This bottle contains 18 cc glue.
This glue is suitable for:
Gluing foam surrounds to a speaker cone / frame
Gluing rubber surrounds to speaker cone / frame
Gluing fabric surrounds to speaker cone / frame
Gluing dust-caps to a speaker cone
Gluing gaskets
This glue is not suitable for gluing spiders and voice coils.
One bottle is enough adhesive for:
- 2 twelve-inch surrounds, or
- 4 eight inch surrounds, or
- 8 four inch surrounds
Storage
This is a water based adhesive. Keep the adhesive in a frost-free room.
Processing
Surface must be flat, dry, and free dust and grease. Apply the glue with brush or roller. The Elastic adhesive dries relatively quickly. If thicker layers are applied, or the adhesive is used with less porous materials , the drying time will be significantly longer. The glue is dry when the color is transparent and the original white is gone. The adhesive can be applied both single- and double-sided. For a higher final strength and longer drying / processing time we recommend to apply the glue doublesided. Remove wet glue immediately with a wet cloth, dried adhesive residue can be removed mechanically. Clean tools immediately after use with water.
Features:
Base: acrylic dispersion
Solids content: about 60%
Density: approximately 1 g / cm ³
Viscosity about 5000 mPa's
25 °C pH value: 5.5
Min. processing temperature (MFT): 10 ° C
Wet color: white
Dry color: transparent
Odor: odorless (slightly acidic)
Number of components: 1
Temperature resistance (dried): -40 ° C to +160 ° C
Moisture resistance: good (if applied doublesided)
Open time: infinite - lasting tack
Drying time: Depending on the circumstances of 30 minutes to 2 hours.
Consumption: 250 g / m²
Safety sheet
In case of problems the safety sheet is available
here
(Dutch language).
5

stars based on

4

reviews




Article code: lijm
Number of reviews: 4
Average rating:


| 2015-10-06 | Henrik

Excellent
Great praise for your glue, it's the best I've used , among many , because it solidifies slow and elastic.
---